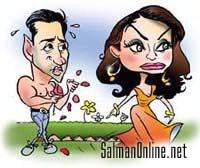 Tere dil mein meri sasoon ko panah mil jaye,
Tere ishq mein meri jaan fanna ho jaye…
fanna
So most of you have seen the movie fanna? Two die-hard lovers and their shayari? Well now imagine our two famous lovers Jodi Salmaan and Ash meet at a spot. The same scene re-casted into the Sid's Edge…

The scene: Filmfare* film festival, red carpet greeting scenario… The host is shouting for names (probably paid for every moment of excitement) and lo… here comes Aishwarya Rai, blind (in love with $), walking from her car. And there the hunk walks in… Sallu Bhai, with one more muscles up his "sleeve"
The look into each others eyes…

Salman: Jabse jaaga hai tumhare dil ka 'vivek', mujhe bhool chucki hoon,
Phone koi aur karta hai galiyan mujhiko deti hoon,
Ek baar vapas ake dekho badal chuka hoon mein,
Kafi cases ke bhoj tale jhuk chuka hoon mein.

Ash: Kutte ki doom khudse hi keh rahi hai ki who seedi ho gayi,
Tumhe lagta hai tum bahut saane ho, par yeh taarkeeb purani ho gayi!!

Salman: Yeh ishq nahi aasan yeh aag ka hai dariya,
Aur mein shirt pehenne ki habit nahi,
Tereneka koi nahi hai jariya,
Karta hoon jo lagta hai sahi.

Ash: Dosron pe goli chalate ho,
Bejubano se khoon ki holi khelte ho,
Tum kya ashiq material ho?
Kya news ko 'Abhi' ki tarah jhelte ho?

Salman: Ek bejumaan ko hi toh maara hain,
Lakhon jawano ki maut ka jimma tumhara hain,
Mein atleast license ki pistol chalata hoon,
Tum toh akhiyon se goli marti hoon.

Ash: Khule aam goli tum ho chalate,
Sharab ke nashe mein logon ko ho kuchalte,
Tum aadmi nahi musibaat ki ho pukaar,
Deer khake kya de thi tumne dakar?

Salman: Bhook lagi toh jaanvar khane mein kya harz hai?
Yeh adi-manavon ki virasaat hai,
Top-less aur takadvar un logon ka humpe karz hai,
Aaab kya kare jab bhagodo ki siyasat hai?

Ash: Itna paisa ho tum kamate,
Phir bhi kameez pehne mein katrate…

Salman: Tumhare toh videsh mein bhi charche hai,
Aise vastra tum pehenti hoon jisse logon ke 'kaan' khade hote hai,
Make-up pe jyada, aur kapdo pe kaam kharche hai,
Naam bade aur darshan khote hai.

Ash: Jaisa desh vaisa vastra,
Yehi mera hai naara,
Nahi chalti tumhare jaisa koi aastra,
Tum toh dhundte rehte ho bahana.

Salman: Kafi suljha hua hoon insaan,
Plastic ka chehra toh nahi lagata,
Pata nahi kyon sabko lagta hoon mein beimaan,
Seedhi meri chaal hai, Seedhi raste pe hoon chalta.

Ash: Pata hai kitne seedhe ho, jalebi ki tarah,
Seedhe raste pe teedha chalne ki dhundhte ho vajaha.

At this moment Ab. Sr. steps out of his limo, and shouts,
"Riste mein toh hum tumhare baap lagte hai."
Sallu decides to flee from the scene and our (love mein) blind ash is carried away.

* Put there any other film festival name which you saw and survived after seeing. There are hell lots of options for you.

$ By the time this article gets shredded in the screening process of jam, this name will probably change. Put the current on going name or hey, be creative put your name there.
No offense guys, no offense... Just for fun.. Njoy.