This post has been published by me as a part of the Blog-a-Ton 5; the fifth edition of the online marathon of Bloggers; where we decide and we write. To be part of the next edition, visit and start following Blog-a-Ton.
"All paid jobs absorb and degrade the mind"
-Aristotle (384 BC - 322 BC)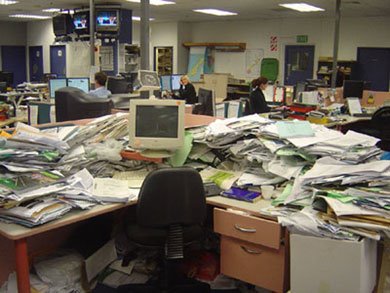 The thing about working for some company is that, at the end of the day you are not so sure, if whatever you did the whole day worth it, at all!!!
You know that the job description is not such a big deal of what you have and the satisfaction rate is also not high, but obviously you are mentally programmed to do the same thing (unless of-course you are born with the golden spoon in that case you are not reading this blog) and have nothing else in life to do.
There are some job description in life which are too ossum to announce proudly, like the 'Imperial guard to the emperor' or even 'The Bus conductor,' yeah, you heard it right, 'The bus conductor,' man, mess with this guy for change and you are never going to reach your designation. Psst. I even had a thought of begging on the traffic signal to get some change for the guy as I was thrown out of two buses consecutively, but then took a taxi. I don't have the job to be as proud as the bus conductor as my job is… ha ha… Please,
At the beginning of Kalyuga, when God was creating homo-sapien v 4.0, he embedded some instinct into the human brain, which are obviously present in some remote part of human brain, but get activated only after one month into the job. Now the scientist around the world are too busy trying to understand weather to buy a new calendar in 2012 or simply tell the world they got a cure for cancer but now we are dying due to other reasons, I decided to take up a job to decode the smallest thought in human mind.
I should tell you, I do not collide two atoms to do the research ok, so there is no chance in creating a black hole if the research fails, the worst that can happen is my bums get burned due to sitting in the chair for 20-25 hours flat or me increased in four to five kilos, but look at the bigger picture, in a three digit figure, some single digits don't matter isn't it?
So lets not waste time and let me share the results of my research. If you do find most phenomenon correct, do pass on the word to the real scientist guy so that they can complicate it and then it enters the science text books
1)
The physic Killer phenomenon:
The phenomenon that somehow comes in your mind whenever your boss is instructing you or there is a performance review. This phenomenon comes almost instantly and almost regularly, but the best part is, this is a peaceful phenomenon which somehow erupts in cafeteria or the coffee machine in front of the wrong guys.
2)
The sleep walker phenomenon:
This is a weekly instinct like Chitrahar (yeah the old one, I used to enjoy it too) it comes to you only once a week and usually its Monday, see you are sleeping peacefully in your dreams taking a shower in Niagara Falls (its in Technicolor) and suddenly…oui oui oui… waters hot, water hot, not the Niagara Falls, the hot shower. As the brain warms up to the conclusion that the water is hot, it ponders on another horrible realization, 'what the hell am I doing in this shower?' ta da, the sleep walker phenomenon.
3)
The dreamy haze phenomenon:
This phenomenon is exactly the opposite for Sleep walker instinct, this can also be dubbed as 'The Ghajini Phenomenon,' in this phenomenon your boss is complaining of the incomplete work done, but you definitely have a clear memory of doing it. So you see, in the sleep walker you walk in your sleep, but in dreamy haze you sleep when you work.
4)
The hacker syndrome:
You will try every trick in the trade to access blocked internet access from the office. That includes the hunting for proxy servers, keeping screens minimized etc etc. you never have downloaded a pirated movie but in your workplace you will hunt for every means possible to break rules.
5)
The know-it-all phenomenon(Only boys):
You have just had a big scolding from your boss, but you will never fail to give an unnecessary advise to the cute girl sitting in the third cubicle from your seat. You will also help her in your work, even if your work in pending since last five days.
6)
The abala-nari syndrome(Only girls):
Now this is a controversial yet, observed syndrome, the not-so-cute guy who is also a genius is sitting there. You ask him for help and he will definitely leave his place and finish your work while his work is going to take another OT tonight, but you cannot take an OT as you got a date with you BF (hubby).
7)
The umpteenth hello phenomenon:
This is actually a unavoidable law, it states that, your wife/GF will call you exactly at the time of you in a meeting with the client, now decency dictates you have to answer her, so you inform you in a meeting and will call later. You get busy with the meeting, but apparently she is not convinced. The calls return and in big numbers. The client simply sends a nice memo that you finish your personal problems first and then come to office.
8)
The weekly battery power:
For some reason I have explored that human brain works in a strange pattern. You are tired to work on Mondays, Tuesday, on Wednesday you feel good about your job, the goodness increases on Thursday and by the time its Friday you are in full spirit to work, but oh ho, can't help it. The week ends, too bad.
9)
The king of the hill for a day phenomenon:
You may be earning a little amount of one thousand bucks or a waste amount of ten lakhs pm (congrats!!!) you will have one day in the whole month where you will feel you are the king of the hill. You will feel like you have conquered the world, yes you are right, the salary day. Unfortunately, the feeling last for a day only as soon your spending starts and all the EMI stuff that you purchased is inviting you and money drips out of your pocket.
10)
The human alarm system:
Your alarm is worthless if you have no snooze button on any working day. Study says 9 out of 10 people press snooze button every morning, while the 10th one does not wake up at the alarm at all. Also one of the primary laws of nature is that, you get sound sleep in the 10 minutes of ringing alarm than what you had in 12 hours of sleeping at night. You snooze alarm at night and decide to sleep, all of the sudden you find that the clock has moved ahead one hour in just 10 minutes. Ouch.. Run, run run.
And btw, my alarm is not 'Wake up Sid' because I am the 10th guy who never wakes up using alarm.
There, all are done, so these are the things I realized while working on a job. You know its so strange that while leaving for home I was so tired in office, but now I spend the next four hours coming up with these crazy theories.
Oh well, that's all in a days work folks. My job is... please... not good at all, but for what its worth it, I am emailing this post to my boss and wondering if he hires a mercenary to kill me or he actually makes his own hand dirty.
The fellow Blog-a-Tonics who took part in this Blog-a-Ton and links to their respective posts can be checked here. To be part of the next edition, visit and start following Blog-a-Ton.